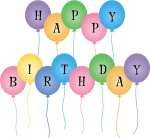 Yesterday, Dec 4th is anniversary day for my company. In the early morning of today, I received an official email from BOD to announce this. I think there is a little person who know or remember that birthday. 🙂
Today, the company is turning to 30 years of age. The email said,
"At a person's age, you'd have graduated from university, you could have obtained a Master Degree and if you continued, you could have already been entitled with a PhD. But as you did not go for the PhD……?"
And then …
"Now, let me get back to my question in the beginning of this message – "What if you do not go for PhD?" Well, Multipolarian, if you are 30 years of age and don't go for PhD, chances are, I guess, that you have chosen to have marriage bond with Multipolar.
Therefore, we should strive to produce more "babies" – by it I mean, Build our solid teams, and Build our prospective Businesses. Only in doing so, we can continue to safe guard our motto of: "Grow and Prosper Together!"
I just join with the company for 5 years ago. Who's join with the company from 0 year? I think there is no one to do that. I count that the long of time that some one join with this company is less than 20 years. So I think they choose for to obtain PhD with other company.
Congratulations, anyway and thanks for the email. I think we can't hide our excitement in this commemoratory day if you can adjust our salary up to the magic number, 30%.