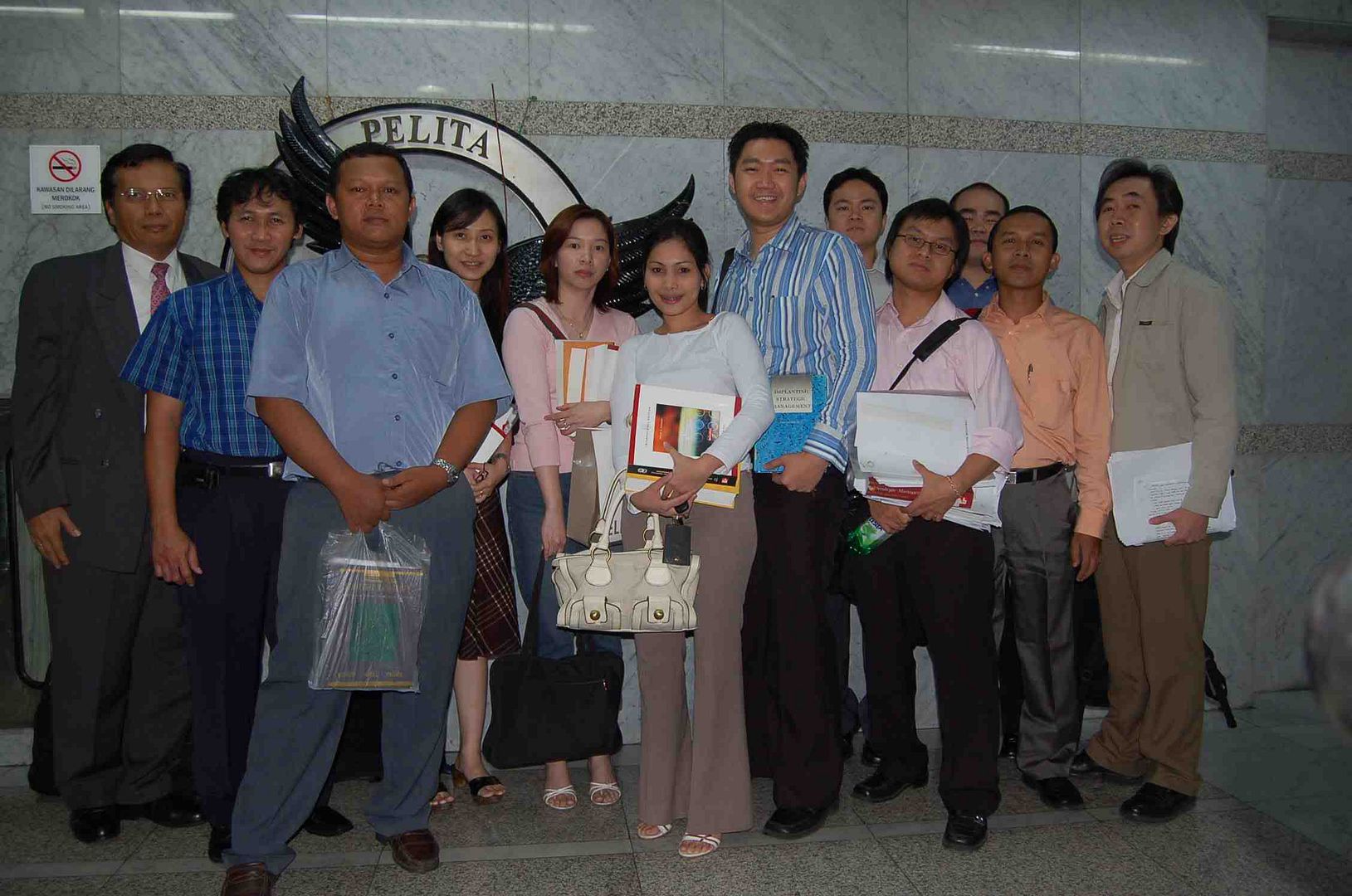 Tadi pagi dapat email dari Pak Berlian, dosen kuliah terakhir di kampus UPH. Ada attachementnya berupa foto bareng waktu kuliah terakhir.
Dear all,
I hope your journey in advancing your career is becoming brighter and brighter. Attached is the photograph after Strategic Management Final Exam, with all faces looked crumbled. Please take it as a remembrance for those 18 weeks experience in getting your strategic management case exercise right.
Foto tersebut bagi saya mempunyai kenangan tersendiri, karena peristiwa yang melatarbelakangi pengambilan gambarnya. Sayangnya ngga semua mahasiswa ikutan foto, lainnya udah kabur duluan …
Gambarnya sendiri diambil ketika kami semua sudah lelah sekali yaitu setelah menyelesaikan ujian akhir semester yang berakhir jam 22.30 malam (kalau ngga salah). Hal ini terjadi karena jam mulainya yang mundur dari jadwal dikarenakan malam itu Jakarta mengalami kemacetan yang sangat parah. Hasil (nilai) ujianpun menjadi 'parah' (heheh as usual..), karena kebanyakan sudah lelah, ngantuk dan udah ngga mood. Tapi ternyata Pak Berlian memakluminya.. hehhe
It could have been better if you are not too tired and have more time.
Untungnya masih ada komponen nilai lain yang dapat menolong, yaitu dari term paper.
Akhirnya, terima kasih Pak Berlian, atas malam-malam yang melelahkan namun mengesankan dan kuliah Bapak yang memberikan inspirasi bagi kami untuk selalu menjadi yang terbaik.
Terima kasih pula untuk harapan Bapak kepada kami :
I only hope when the time comes for you to do it for the real case, with real company, and real money, you will do it better. God Bless You!